The Burg Design manufacturing processes
Manufacturing processes
Design orientation and functionality in every phase
In the manufacturing process, the individually developed designs manifest themselves into unique products that are unparalleled on the world market. Through the highest technical know-how of the production department in perfect coordination with the design department during each phase, true unique items and thus product worlds are created that are literally only limited by the by the power of imagination.
Learn more about the processes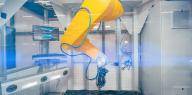 01
Lithography & screen making
In lithography, the digital data generated in the design process are prepared for the printing process. Then films are exposed for each printing color. On the basis of these films, the printing templates for the screen printing are then produced.
During the screen printing process, all parameters are first precisely matched to the material and the image to be printed. Then color by color is printed on top of each other until the desired design is realized. For further purposes, a digital printing system is also available.
03
Thermoforming / High pressure forming (HPF)
During the forming process, the plates printed with the design are brought into the exact final shape. To guarantee the best results, the tools for the thermoforming process are engineered and manufactured by Burg Design.
During contour processing, the component is adapted to its final contour by means of punching, milling or lasering.
In addition to contour processing, the laser is also used for the backside laser engraving of two- or three-dimensional decors. With this special laser engraving in combination with the printed design, 3D effects are achieved that are not possible with any other process. It also allows backlighting to be precisely positioned.
During coating, a PU resin layer is poured onto the printed film. This protects the product and provides it with a "self-healing effect". In addition, depending on the thickness of the resin layer, the design also gets a special depth effect.
During the injection molding process, the previously printed and shaped plates or decor parts are back-injected with a suitable plastic. That gives them a stable structure of their own. The result is a three-dimensional component that can be installed directly.